Best Reward / Cash Back Credit Cards
Possibly the fact that you didn't get invited to participate in the offer, and the word "Select" in the offer.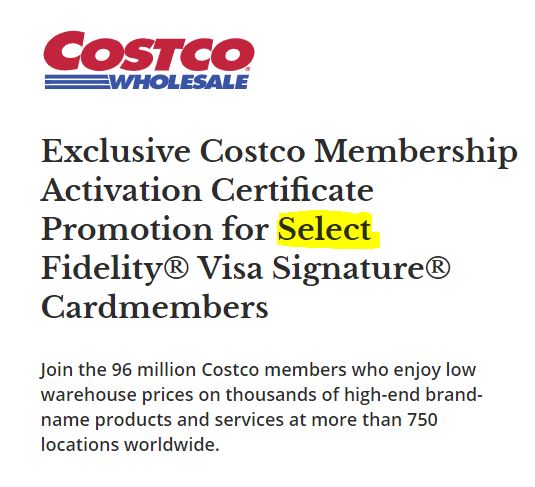 Yeah, I skipped right to the T&C. Thanks.
For those looking for a Visa, Chase Freedom Unlimited is offering double rewards for the 1st year ( 3% ) up to $20k in purchases, 1.5% after that. No annual fee.
Unless you are a big spender, it would make more sense to get something with a large signup bonus like the Sapphire Preferred.
Not sure if there was a $300 signup bonus for the Propel before but I got that offer in the mail today.
Just got another 5% up to 2500 pt ($500 spending) offer from Citi. I noticed if I let that card sits for a while then I will get such offers. I just usually spend it on a GC at grocery store then put the card back in the drawer.
They sent me a better one. I actually do use the citi cards… But ONLY on purchases that will get $$$ back from price rewinds. Probably makes my Citi card end up being the card with the highest overall cashback on purchases (30%?)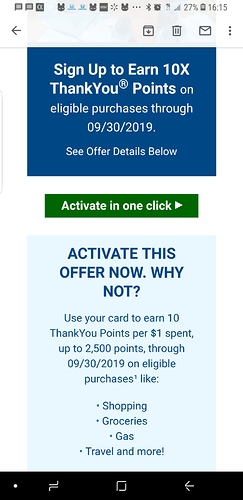 My Sears branded Citi card seems to send this at least 3 or 4 times a year. Evidently Sears is going bankrupt, but their credit division has money to burn. In the case of this one, "eligible purchases" just means no quasi-cash purchases like lottery, casino, money order, etc.

Got an almost identical one 10% up to 2500 pts ($250 spend). No reason not to although getting the card out of the sock drawer for $17.5 is a hassle…

This is the same offer that I got for my Citi Sears card…
CUGA (Credit Union of Georgia) offers a Visa card with reward of 1.5%. This card usually includes an easy $25 bonus. But until end of September bonus has been boosted to $100 with their special offer.
The telephone number is: 1-877-590-6226
Q: Shin, is it a hard pull?
Sadly, yes it is. I called and tried to get that set aside in favor of a soft pull. They refused.
Still, a 1.5% card is decent. I can make good money with a lower reward percentage than that. So I might reconsider and suffer the detested and annoying hard pull.
Amex Delta cards have a different set of offers through 8/15. Worked out OK for me as it aligned with an international trip I was already buying tickets for. Less points than normal with an additional statement credit offer instead. (50k points vs 70k normally on Platinum).
Delta points look near worthless to me (I am valuing them at ~1cent per for me)…
For the Platinum Delta card, it's a $195 annual fee, no first year waiver. First 3 months/$3k spend you get 50k miles. Additionally, first three months you get 50% up to $500 statement credit on Delta spend.
Other card benefits:
1st checked bag free, self plus up to 8 others on itinerary.
Group 1 boarding
every year at renewal, coinciding with $200 AF (Not at initial card opening), companion cert. Looks to charge up to $75 for up to 4 legs on a domestic flights ticket.
Not sure if Ill keep it past the first year, depends mostly what I end up valuing the companion cert at. I was buying 2 intl tickets $470 each for a vacation next month, Delta basic economy was lowest cost. The group 1 boarding (for carryon space for shorter trips) and/or the checked bag makes basic economy more useable.
For $195 AF paid I get:
$470 back on the flight I was already booking
$240 (not paying for checked bag) on the two roundtrip tickets for the flight I was already buying
50k points, ($500) for $3k spend.
website gave automatic $60 statement credit because "systems were down" and it didn't provide me with an instant card number. Aggravating waiting 3 days for the physical card, but it still worked out - the prices stayed the same for my flight and I was able to rebook/cancel three times in the rolling 24hr cancellation periods until the card arrived.
Net profit: $1075 on $3k spend.
Im not sure if a $60 Delta gift card would work to finish off the Delta spend for $30 more credit. I might just let the other $30 credit go unused.
That is an incredible deal if you know you are about to buy Delta tickets!
BTW - I'm like you, my valuation of the FF miles keeps dropping as airlines keep getting bolder in their shenanigans (devaluations, removing mileage charts, etc.).
Earning miles on a particular airline no longer influence my ticket purchase, where as 15 years ago, I was willing to pay 5-10% extra to fly on a certain airline to earn those miles.
In the same vein as the Amex Delta Skymiles post above (also make sure to get their related Business cards too!), Amtrak World Mastercard has a best ever signup bonus of 40k amtrak points after $2.5k spend in 3 mo.
I got approved for myself and spouse for a cool 80k amtrak points that should yield almost $2k in value. The card does have a $75 fee, not waived the first year. My offer also has a $100 statement credit after meeting the spend requirements. Offer exp Sept 25th if I remember right.
They also offer a no annual fee version too but that's only for 12k points.
Keep in mind BofA has a newish rule as of Jan '19 that you have to wait 24 months before reapplying for the same card, based on opening date. This applies to many of their cards. I didn't see any language about this in the Amtrak World Mastercard application but I suspect it still applies.
Thank you, Argyll. I was unaware prior. That card appears to be a "must have" for those fortunate to be Keesler members. I'm not in yet, but I am trying to gain entry. Sure hope they do not bar me.
FYI,
Amex almost always posts bonuses a couple days after the required charges have posted. Whether this be miles, points, or statement credits.
Chase almost always posts a day or two after the statement date, assuming the required charges have posted a few days before the statement date. Again, the same whether miles, points, or statement credits. Exception is "funds" like CSR travel funds, which will post the same time as the related charges post.
Is the card serviced by Amex? Or by usaa?
I should have clarified. I meant bonuses for spending thresholds and targeted offers. Such as when you open the card or if they send you a "Spend $XX, receive__" offer. I don't have any Amex cards worth regular spending category bonuses to me. Even referral bonuses from Amex have showed up for me usually on the day after the other person's card was approved.
Does the Blue Cash also delays those bonuses? If so it would be great I would learn new info. If they do I wonder if they selectively delay things based on the customer. (I have gathered that you MS, I do not.)
Full_Disclosure also pointed out a relevant detail that I overlooked. If it's only Amex network and not Amex administered, it's more likely to do its own thing
Targeted offer - check your email and mailbox

Wanted to put in a kind word here, regarding rewards, for the Keesler Visa Signature card. I am still new to the card so uncertainty attaches to the exact magnitude of my rewards, though I am receiving 2% at minimum. I'm also in rather a state of hiatus at present regarding use of the card. So not much additional data is incoming.
Nevertheless, I like the card and I believe Keesler is treating me more than fairly. If you have a rewards orientation where credit cards are concerned, as opposed to a bonus orientation, I urge you to have a look at the Keesler Visa Signature. I think you will like the card, and even more so if you can decipher precisely their rewards algorithm, a feat which thus far has eluded me.