$3500 for a one mil transfer is one of the highest I have seen.
$2700 for $1M of new money for an existing account is quite good too.
I never heard of stockpile. Wish I noticed that DoC post when it was posted.
just sharing some info…
in Mid-July, 2020, I emptied a Merrill Edge account, except for $10. Figured the $10 would keep the account open until I get my 2020 tax forms for the account.
In mid-December, Merrill confiscated the $10 in the account and closed it with no warning and no notification of closing it.
After discovering what they did, I spent an hour on their online chat for this issue (had no idea how long it was going to take).
Finally they promised to credit $10 to a different Merrill Edge account I have after asking them if I need to file a FINRA complaint to get my $10 back.
Very unfortunate! It must have been some kind of human error…
I've had an open IRA and cash account for over a year, each with <$5. No issues
The bank giveth and the bank taketh away

Though not sure if this would even fall under FINRA jurisdiction. It might just be unclaimed property that's eventually returned to the state and shows up in your state's unclaimed property database.
How long was the account inactive. I and many others keep < $1 in a traditional IRA for backdoor Roth purposes.
Account was inactive from July 13, 2020 until closed by Merrill on Dec. 14, 2020.
Additional info that may or may not be relevant…
BofA checking and credit cards
Preferred Rewards Platinum
3 Merrill Edge accounts showing up upon login
one CMA closed somewhere in 2019 I think
one CMA with well over $100k in assets (this account now shows a $10.00 Pending transaction with Description as "Charge Off")
this CMA that was closed by Merrill on Dec. 14, 2020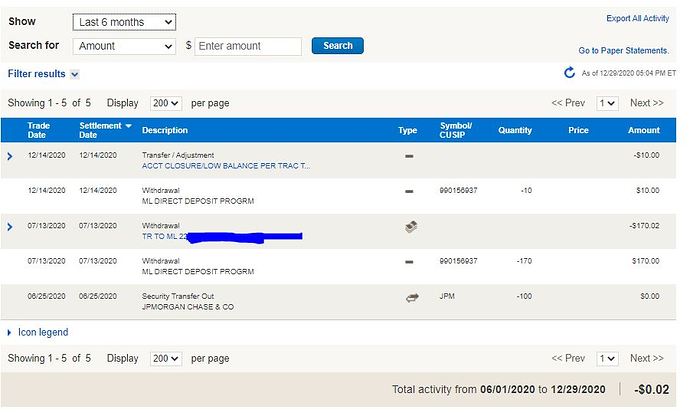 I've never had multiple taxable CMAs so couldn't answer why they chose that.
Any suggestions for current bonuses at brokers that didn't manipulate trades last week?
Fidelity looks like it had several public bonus offers that they took down recently. Do they usually have offers if you ask them? (although I'd assume their CS has hours of wait currently)
Looking at >$400k taxable account and ~$80k ira, over $500k total – that will take a few days/weeks to figure the best time to transfer securities. (only $100k of that is in cash. Well, more, but right now some is securing short puts in the IRA). Looking to move from IB.
Edit: Looks like Scwab has a $500 bonus (by referral) for $100k. Not sure if they should be in the mix?
I thought Fidelity stopped offering incentives years ago other than for > $1M accounts.
They had some last November

Robinhood trying to prop up their IPO valuation after this debacle by encouraging more deposits. 5% match on deposits by mid Feb, up to $3k deposit / $150 bonus.
Check your email for the invite to existing customers.
Oh man I got excited for a millisecond…

Regarding Robinhood I did not get an email yet, but maybe if I pull some money out, I'll get the promo?
Just hopped on the Ameritrade train before it closes. Hopefully they can get their integration with Schwab going so I can get the discount on the Amex Platinum when I decide to get it.
Existing ET account deposit bonuses from the above
| Account Deposit | Receive |
| --- | --- |
| $5,000–$24,999 | $75 |
| $25,000–$99,999 | $100 |
| $100,000–$199,999 | $300 |
| $200,000–$499,999 | $600 |
| $500,000–$999,999 | $1,200 |
| $1,000,000–$1,999,999 | $3,000 |
| $2,000,000+ | $4,000 |
That one does seem better, and while it requires a new ET account, it does not require you to be a new customer (you can have more than one of the same kind of account if you want). 6 month hold.