That's a nice offer. Too bad I wasn't targeted

It looks like it's annualized at 4%. That is a very good rate, but keep in mind that it is only for 3 months. IIRC, their higher interest rates on deposited money require monthly DD.
What I found just a little twingy … If I read it right, funds may be uninsured for up to 5 days.
Are my deposits insured?
February 14, 2022 21:30 Updated 

Deposits are swept daily to one or more banks (the "Program Banks") where they earn a variable rate of interest and are eligible for FDIC insurance. Once your deposits reach one of the Program Banks (typically within 2 business days), they are FDIC insured. FDIC Insurance is not provided until the funds arrive at Program Bank. Funds in the SoFi Money Sweep Program are eligible for up to $1.5 million of FDIC insurance through the Program Banks.
If the number of Program Banks changes, or you elect not to use, and/or have existing assets at, one or more of the available banks, the actual amount of FDIC coverage will change.
That's true for all these Fintech outfits. Sofi holding your money is not FDIC insured. You are trusting them to subsequently deposit the money into one of their program banks, under your name, at which point it is insured.
It's no different than the sweep accounts at most brokerages. Although with brokers the money is generally covered by SIPC until it's moved to the FDIC-insured deposit account.
As you
That is not "no different than". Ask the @meed18 man if his crypto guaranteed funds were guaranteed. Yes, there was probably fine print in his contract, exactly as what you have pointed out. Sadly, as you pointed out, it's faith in their skills, knowledge, and ethics that determines whether you'll invest your money with them.
The process is no different than.
While the process may be no different, the SIPC coverage is a huge difference. Not only does a customer have to trust SoFI to deposit the funds in an FDIC insured account, he also has to trust that SoFI will do so in a timely manner. That last bit of trust may be the first to go if cryto monetary issues arise within SoFI.
Disclaimer: I've got no experience with SoFI. I do not have a financial interest in SoFI, positive or negative.
I don't think it's fair to paint SoFi with the same brush as Voyager and the like. At least, not anymore. SoFi, while it is a Fintech/Neobank, is actually a bank. They used partner banks in the beginning, and probably still do, but SoFi itself is currently listed on the FDIC's website as an insured bank. That likely means they bought out another bank that was already FDIC insured at some point, and prior to that, they were indeed uninsured and your money was at risk before it made it into a partner bank. But when you ACHed money, it was going directly to that partner. As far as I can tell, except for initial funding if you used a credit/debit card (if that was even an option), there was no point in time where your money wasn't with an insured bank while banking with SoFi.
So checking and savings discussed in this thread are directly insured by the FDIC up to the applicable limits as already discussed above. They are not "subsequently deposited into another program bank under your name."
SoFi Iinvest is an entirely different account and the cash balance in that account is not FDIC insured, but they are SIPC insured up to the standard limit.
SoFi Bank IS a bank now…they bought Golden Pacific Bank last year…it is not a fintech anymore…
They don't use "partner banks" anymore as they are a bank…
I saw this offer in their "ads"/promos section when I logged in to my account today. Never got any emails, so no way to be certain whether I qualify. I'm just gonna take screenshots and hope for the best.
The bonus for this promo will be paid in SoFi Rewards, not cash. You must agree to some terms to sign up for the Rewards program, as it is not automatic. While you can view the Rewards accumulation and balance on the website, you must use the SoFi phone app to redeem. Very disappointing, but the extra 1% from this bonus (in addition to the 2% interest) will most likely be higher than anything else, even if they don't increase their interest rate for the next 2 months.
Another thing to watch out for is that the Rewards are not treated as interest income, and any amount over $600 will be reported on a 1099-MISC. But I think that at least in my case it'll be taxed exactly the same as regular interest income (i.e., federal and state income tax).
I was treated really well by them in the past when I screwed up a bonus qualification. I'm not currently seeing the offer while logged in and looking in the ads/promos section, so you're probably targeted. So you'll probably get it automatically.
I think they still do, but only because they didn't want to change existing users' routing number. The routing number for my account is still attached to Bancorp Bank.
I believe they made an arrangement with Bancorp to continue to use the routing number assigned to SoFi so they would simplify the change over for the depositors so they wouldn't have any inconvenience but they are indeed a bank and don't use partner banks anymore… They bought Golden Pacific which is now SoFi Bank…
I think I was wrong about where I saw it, so let me clarify: it wasn't the promos section on the main "home" page you see after logging in, it was on the "Banking" page that shows the checking & savings accounts, on the right side under the "transfer | pay bills | more" buttons.
Also that little advert is wrong as it says I have to maintain the balance for 90 days, while actual terms say to maintain the balance between 9/30 and 11/30 with bonus rewards added by 12/14.
mine looks like this: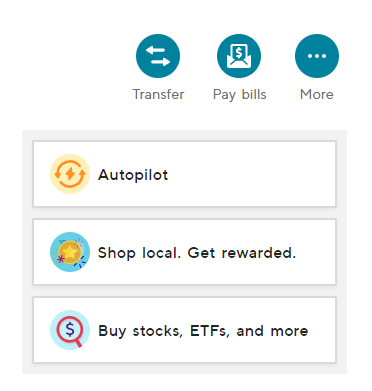 so you're probably targeted if you are seeing something different there
Sounds like they are partners lol
Yes, I know what you mean. My money is in SoFi bank and not Bankcorp and they are a real bank. My overall point was that even when they were using partner banks, my money was still insured the whole time because it was always at a bank that had FDIC insurance even if SoFi didn't.
Yep, it's right between "autopilot" and "shop local".
Does SoFi still require a direct deposit?
If you want the top rate…they sure do…
They threw me out of banking…for reasons unknown…i wouldn't bother with them