[Mods - if this isn't financial enough, please move to a more appropriate category.]
We recently had a washing machine begin to fail. After a little research (way too much according to my wife), we decided on an LG. Surprisingly, Best Buy price matched ABT, which beat Home Depot by a buck, so we made the purchase, with delivery a week later.
The machine was delivered without incident. The geeks must be paid by the piece, because they couldn't get out fast enough. As I started to connect the hoses and peruse the manual that was taped to the top of the machine, I noticed this, also taped to the top of the machine: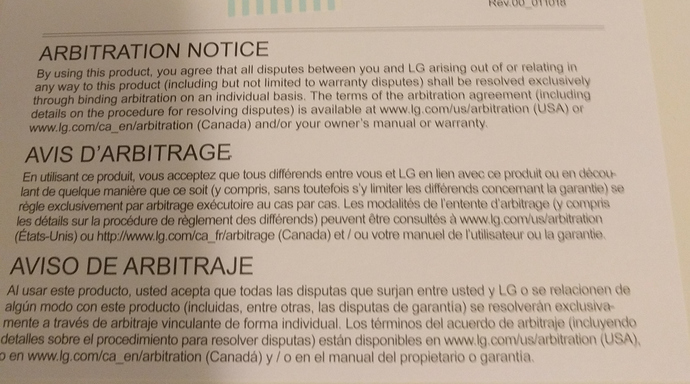 Is this now a common tactic? Is it common for all appliance manufacturers? Most of our financial service providers have really pushed arbitration, but opt outs were available. As for products, we purchased a GE fridge in 2016, and it did not have this requirement.
We promptly returned the washer without using it, and have ordered a different one (not from Best Buy). It probably won't be noticed by anyone other than the Best Buy kids that didn't know what arbitration was until I enlightened them.
What really ticks me off is that this requirement is never even hinted at pre-delivery. For all of the buzz words, phrases, and "for you" things that Best Buy is happy to repeat ad infinitum, they apparently don't know the "transparency" buzz word. On the positive side, Best Buy didn't even question the return and they didn't try to add a pick up fee.
While my soapbox is out, I'm kind of surprised at Consumer Reports. They've been railing against arbitration clauses by banks and utilities for years. Yet, they rate this LG product at the top of the heap with absolutely no mention of their arbitration clause. // rant off