The 2018 tax brackets look like this for MFJ: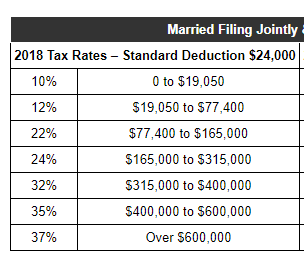 Additionally, the $2k per child tax credit starts phasing out when your income surpasses $400k, and phases out $50 for each $1k earned until your income hits $440k at which point it is completely phased out. Note that the phase out is per child, so if you have 3 children you're actually losing $150 worth of tax credit for each $1k income. That's effectively a 15% extra income tax on the first $40k of income above $400k. Combined with the 35% tax bracket on income > $400k and you're looking at an effective federal marginal tax rate of 50%. Definitely not pleasant.
Now my question. So far this year we have about $397k of taxable income. The regular earnings from W2 jobs will take the total for the year to around $430k of taxable income. A very high percentage of that income will simply go to uncle Sam. I already am maxing 401k, is there anything else that can be done to avoid this large tax hit on the rest of the earned income coming in 2018?