well, if we can't be friends with M-"the Bone Saw"-BS, maybe we can make nice with the socialist who we tried to overthrow while he wrecked his country.
THE US INTENDS TO EASE SANCTIONS AGAINST VENEZUELA, ALLOWING CHEVRON TO RESUME OIL PRODUCTION - WSJ
the oil fields are so deteriorated from underinvestment that Venezuela would be hard-pressed to add significantly to output over the next two years, even with the help of foreign companies. "I don't think it would be relevant to broader energy markets in the near and medium term," he said.
Was this just Saudi Arabia? OPEC? Or was it OPEC+? I suspect it was OPEC+, which is a much bigger pie than just OPEC, and may be indicative of the level of respect worldwide for our fearless leader.
Schmoozing? I don't call the following schmoozing, flattering, sweet-talking, buttering-up, or persuasive (in the win friends, influence enemies way) …
"And I said it at the time, Khashoggi was, in fact, murdered and dismembered, and I believe on the order of the crown prince," Biden said at the time.

"And I would make it very clear we were not going to, in fact, sell more weapons to them, we were going to, in fact, make them pay the price and make them the pariah that they are."

Biden added that "there's very little social redeeming value in the present government in Saudi Arabia" and that "they have to be held accountable."
if you mean that his failure to fulfill those campaign promises should persuade the Saudis, those quotes are not easily forgiven, especially when the declared President of the United States is slinging them.
The "backup link" avoided the paywall for me.
From the article
This week, Biden officials found their urgent calls to Riyadh, Kuwait City and Abu Dhabi went largely unanswered. OPEC+ is making a mistake, but Western governments need to rethink their energy policies, too. They should be boosting all of their domestic sources, encompassing oil, gas and nuclear but also extending to renewables including wind and solar.
Energy security is as important today as it was nearly half-century ago when the Arab oil embargo started. But security starts at home.
The only feasible solution is oil and gas and nuclear. But extending these sources is not going to happen so long as the governments in the United States and Western Europe are firmly in the control of the climate cult.
P.S. missed the alternate link first time.
Lady who used to be a senior Fed official. 1 hour interview, talks about unlikely "soft landing", slow decline in the inflation rate, and more technical aspects of the Fed and Treasury funding situation.
Right. That's why Biden can try his best to discourage or shut down our domestic fossil fuel production, and it's a Good Thing. But at the same time, he's asking Mohammed "The Bone Saw" to ramp up Saudi production as much as possible and its a Bad Thing when they don't. And when they don't, the higher priced gasoline is their fault and not ours.
BIDEN: GASOLINE PRICES INCHING UP DUE TO RUSSIANS, SAUDIS
And he fails to recognize, for a variety of reasons, or purposely, the idea that getting Venezuela or Russia or any of the African countries to boost production is horrible for the climate religionistas. Those countries have nowhere near the climate regulations that we do, and his policy is a net loss to the climate if you are of that faith.
In other words, Algore would think the policy is going to further inundate Miami from it's current 18" depth to 23" in 4 years … unless we raise taxes now.

The Fed's problems are our problems. How do we respond to this almost inevitable crisis?
For bond holdings, I have been buying TIPS as my bonds mature. This is mostly in tax deferred accounts but I think I'll start buying them in taxable because I have to pay CA state income tax on funds withdrawn from my IRA. Handling the taxes in my taxable account is a pain in the ass but doable.
A five year TIPS auction will be announced on the 13th and will take place on 20 October 2022.
But an auction is not necessary and buying them on the secondary marker in a brokerage account like Fidelity, Schwab or Vanguard is not hard.
Guess the polls aren't looking good, or maybe they know Thursday's CPI is gonna be bad? Or both.
U.S. DEPUTY ENERGY SECRETARY SAYS U.S. STILL HAS ABILITY TO USE STRATEGIC PETROLEUM RESERVE OVER COMING WEEKS AND MONTHS AS NEEDED TO FIGHT HIGH PETROLEUM PRICES
Headlines like these do not help the Democrat brand in the midterms
The U.S. DOE has issued a correction … :]
U.S. DEPUTY ENERGY SECRETARY SAYS U.S. STILL HAS ABILITY TO USE STRATEGIC PETROLEUM RESERVE OVER COMING WEEKS AND MONTHS AS NEEDED TO FIGHT HIGH REPUBLICAN POLLING
With gasoline and diesel prices increasing expect more of this inflation.
CPI came in hot, +0.4% core for the month vs +0.2% expected. Market not gonna like that.
Sep US CPI +0.4% vs. StreetAccount consensus +0.2%
Sep ex-Food & Energy +0.6% vs. SA +0.4%
Compared to
Aug CPI was +0.1%
Aug ex-Food & Energy was +0.6%
More commentary on inflation from this am. Notice how Core is still rising, contrary to what the optimists had hoped.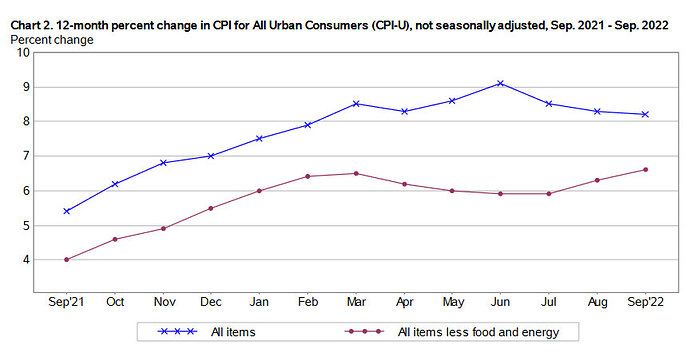 Big reversal in most sectors this morning. At end of session Dow is up close to 3%, Nasdaq and S&P over 2%. Seems investors decided to buy the dip.