Fatwallet used to have a mortgage rate thread. Is there one here?
Primary/Secondary/Investment
Closing Costs Estimate
Credit Score
etc.
Not sure but I'm looking for a good refi rate. Anyone in CA have someone they know can do a true no cost refi?
That thread wasn't very good, because for most people the best answer is:
So whatever you find had better be better.
I recently (July) purchased with Amerisave and refianced (Nov) with Aimloan. Both were competitive with rates I found on Zillow and they were easy to get information complete and accurate data straight from the websites.
The original purchase was 90% LTV on a $250k home at 4.25% with no closing costs and some of the rebate covered prepaids (got about $3,000 in rebates IIRC). Credit score was in low 800's for that one.
Refinance was 90% LTV on a $250k home at 3.75% with no closing costs but I had to cover the prepaids out of pocket (got about $2,750 in rebates IIRC). Credit score was in 770's for that one. I actually got a better deal on the 90% LTV on this loan than I would have for a 80% LTV (both interest rate and the rebate). Deal was in line or a little better than zillow was showing me at the time.
Had great experiences with both and both we very quick in the process (I returned requested documents/information ASAP to them when they needed which I think made it go even better than normal).
Yeah. I think they pay zillow for the exposure. I've been calling them direct, but don't think it makes a difference.
Does amerisave do rental properties?
My purchase was our primary residence. Their website shows rates for investment properties, but I have no experience with them in that aspect.
Despite the Fed raising rates, according to Freddie Mac, mortgage rates fell for the first time this year, in the light of home builder confidence falling for the third month in a row, existing home sales being down 5 percent for the year, and new home sales down 1 percent for the year.
I just wanted to warn everyone to NOT use Lendingtree. They give out your info and I've been getting calls nonstop from people trying to sell me mortgages with 5+% rates. I literally have had more than one of them call at the same time.
Weekly mortgage refinances dropped to an 18 YEAR LOW.
Wow, I'm assuming HELOC's are on the way.
The rates have been going up for 2 years, is it so surprising that nobody would want to refinance into a higher rate?
Well, no. But my post was more of a report than a comment.
BTW, mortgage rates were actually falling (or stayed down) most of last year, but took off this past January, right after the enactment of the GOP tax bill, which will result in trillions and trillions of federal debt, as a result of unnecessarily throwing trillions and trillions at the Rich & Corporate: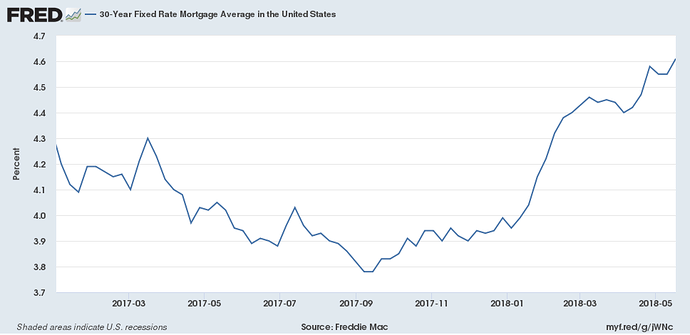 I like zillow's chart beter. You're not wrong, it was "dropping" a little last year, but that drop probably wasn't enough to justify refinancing for most borrowers. They would have had to borrow right around that brief peak Nov'16-Mar'17 or before May'16 (and have missed refinancing during the May-Oct'16 trough).
Not sure how it's better, they're exactly the same for the last year and a half.
'Existing Home' sales dropped 2.5 percent in April.
While the line looks very similar, it's about 0.1-0.2 point lower

Can you stop putting this political shit in every thread? None of your posts shows any causal relationship between the GOP tax bill and rising mortgage rates. You would expect the GOP tax bill would cause mortgage rates to fall since the true cost of borrowing will be higher* at the same interest rate.
*fewer tax filers will itemize
I wonder about the borrower's who continue to re-finance or have re-financed within the past 12 months. What took them so long? Interest rates were low for so long. My guess would be it's a cash-out "refinance" loan, or desperate to reset the loan terms in exchange for lower monthly payments even at a higher interest rate.