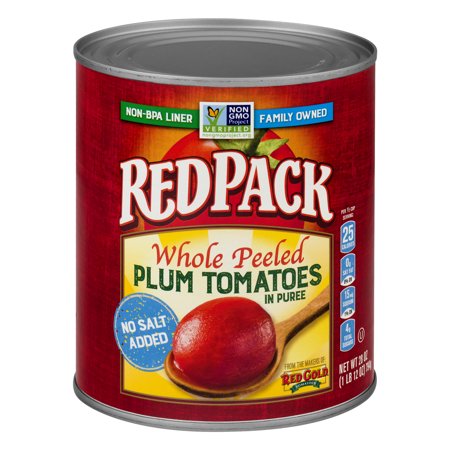 Sometimes a hot deal does not revolve around price. It depends, instead, on quality.
So what brand of tomatoes do you choose when making your homemade spaghetti sauce? And if you're buying sauce in a glass jar, stop reading this now and just go away. The RedPack tomatoes
are numerous; more whole tomatoes, less puree.

are carefully peeled. I HATE tomato peel in my spaghetti sauce.

are grown in the USA and are of very high quality
I'll confess to going tomato by tomato and excising, with a sharp knife, the tiny residual stem. No brand of tomatoes I've used does not require this operation. This goes quickly and is not unduly time consuming.
Then in the tomatoes go into all the onions and garlic, after which the entire ensemble is mashed with a potato masher. This leaves small chunks of tomato in the sauce, a sought after outcome. I would never take an immersion blender to my spaghetti sauce!!
Anyway, at the heart of all that we have the RedPack whole tomatoes. They are a hot deal at any (reasonable) price.