Can we start something here since the deals are going so fast on the other sites?
Here's one. I don't need that many but if someone here needs it, feel free to send me a box or 2.
https://www.staples.com/Kleenex-3-Ply-Anti-Viral-Facial-Tissues-68-Sheets-Box-27-Case-25836/product_332948
Kleenex Boutique Antiviral Facial Tissue, 3-Ply, 60 Sheets/Box, 27/Carton (25836)
Item: 332948 Model: 25836/49978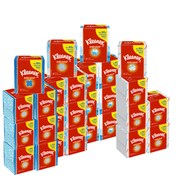 $54.99 $69.99 Each
Qty:
Price is subject to change. If the price increases, we will send you an email notification 2 days before item is shipped.
YOUR NEXT 3 DELIVERIES
Change
04-14-2020
10-14-2020
04-14-2021
Your deliveries will arrive once every6 months until canceled.
AUTO RESTOCK SUMMARY
Order Subtotal:
$69.99
Add Coupons
-$15.00
Shipping:
FREE
Estimated Tax:
$4.84
TOTAL:
$ 59.83
Have Staples Rewards? Add
$15 off your online order of $60 or more.