I know american-men are stereotypically risk takers, but curious how people here feel about the how-to-fix-it part?
This is an automatically-generated Wiki post for this new topic. Any member can edit this post and use it as a summary of the topic's highlights.
The article goes from this that makes a lot of sense
"Everybody, men as well as women, benefit from a suite of particular behaviors," Karraker said. "A healthy diet, getting physical activity, not smoking, no-to-moderate alcohol consumption, maintaining deep, supportive social relationships. These are things that benefit everybody, including men."
To this that makes less sense. IMO less medicine is better medicine
"What is it about the socialization of men that means that they're not participating in the health-care system the way they should be to extend their lives?" said Darrell Bricker, global CEO of Ipsos Public Affairs and co-author of the book "Empty Planet: The Shock of Global Population Decline."
Does your O include preventive medicine? My guesstimate is that women are more likely to go for regular checkups, while men only go when the wife makes them. Or when they're really sick, which could be too late.
Yes.
Many check ups are deprecated in retrospect by the medical community. For example PSA tests for prostate cancer in people who identify as males. This led to many unnecessary surgeries that were more dangerous than the prostate cancer. This is what the Mayo Clinic says
Prostate cancer screening can help identify cancer early on, when treatment is most effective.
But it isn't perfect. Some men may find that the downsides of prostate cancer screening outweigh the potential benefits.
Similarly, breast cancer screening for women who identify as female is also not suggested for younger persons.
And colonoscopy is also not suggested for younger persons who have colons.
Another issue is the interpretation of the screening test results. Look at the case of cholesterol screening. The graph at this link shows that someone with a cholesterol level of 300, who would probably receive cholesterol medication, has a lower mortality risk than someone with a cholesterol level below 150 who would not receive medication.
https://twitter.com/Mangan150/status/1615052172852592641?s=20
If someone can extract the image and post here I would appreciate it.
Here 'ya go …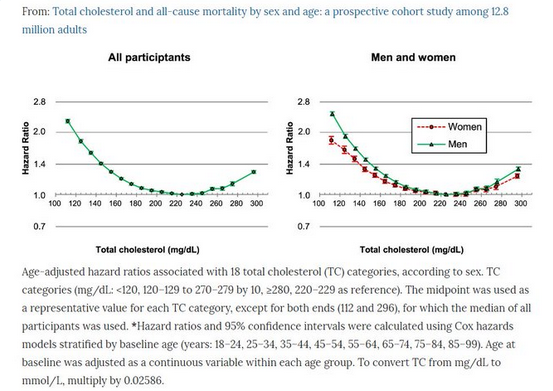 I think we should not just deliver ourselves to the medical system and expect them to heal us or keep us healthy. We need to be active participants in our own health and use the medicines and therapies for which there is good scientific evidence.
For example, I have a family history of colon cancer so I do get colonoscopies every 5 to 10 years as suggested by the G.I. doctor.
I also get exercise, maintain my weight at a recommended value, and eat a healthy diet with fiber and other nutrients.
I think women do tend to take care of themselves better than men. I like to walk around my neighborhood as exercise and I notice that most of the other people walking are women. Not all but the majority of them.
This is just my observation and is not statistically valid. How to get people to be an active participant in their own health is an important issue.
I have to think that so-called "body shaming" has a lot to do with this. The whole "fat is fabulous too" movement should soon have this "problem" remedied and women dieing as young as men, too.