it looks like we haven't had the much sought for "capitulation"
SPY YTD curves for each year. 1931 was a bad year, but we're not looking so hot this time around either.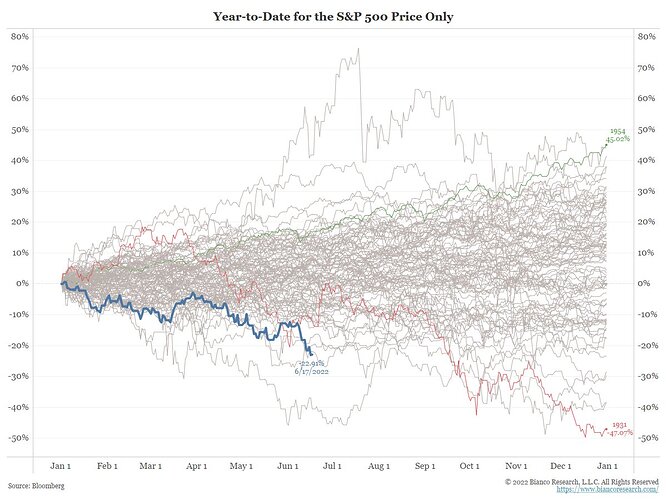 Market commentary
It's worth noting that we've had this large decline in the market multiple and the Fed has only raised rates to 1.50%, and still has a $9 trillion balance sheet.
We think the more likely scenario is that interest rate increases are effective in reducing headline inflation and throws the economy into a recession… If the Fed succeeds in taming inflation through interest rate hikes, it's going to take a cut out of economic activity, and that's going to mean lower earnings for the S&P 500. These estimates haven't adjusted to this coming reality yet.
Some update from Micron's outlook…
Still, there's reason for optimism.
When the S&P 500 plunged 21% in the first half of 1970, it promptly reversed those losses to gain 26.5% in the second half and eke out a gain for the year.
"You trade and invest in the markets you have, not the ones you want," Krosby said. "Can this market recover in the second half? A lot has to be lined up. But it's happened before."
We must hope for the best.
Who would have known this bear market in stocks and the economic recession were the fault of racism? CNN, that's who.
Yeah, this is almost three weeks old - sorry.
401k's are still being funded. Fund managers, more or less, have a mandate to invest deposits in the manner prescribed by the prospectus. Thus, the capitulation cannot (almost) occur until employees:
re-think their 401k allocations (to me, the least likely to occur)
lose their jobs
limit their 401k contributions due to rising mortgage, food, transportation, etc. costs. (to me, the most likely, to occur, but also the lengthiest to take effect)
And then it remained less than stagnant for a decade.
I've had lots of laughs over the last couple of weeks, but your wit/headline combo has been missed.
The monumental ignorance and stupidity of Bernie Sanders is breathtaking. Here is one of his tweets
Today, in America, just one Senator from Vermont – Bernie Sanders - manages to be completely ignorant of mathematics and seems proud of pronouncing that fact. Obscene.
Re. five year break even rate as a stock market indicator
interesting. The five-year breakeven inflation is now 2.63% -(-0.11%) = 2.74% (Aug. 1, 1600 pdt). still fairly low compared to rates earlier this year. Over the past week, the tips yield went negative but the nominal bond rate dropped even more.