Will the Fed do to real estate what it is currently dishing out to the stock and bond markets?
This is an automatically-generated Wiki post for this new topic. Any member can edit this post and use it as a summary of the topic's highlights.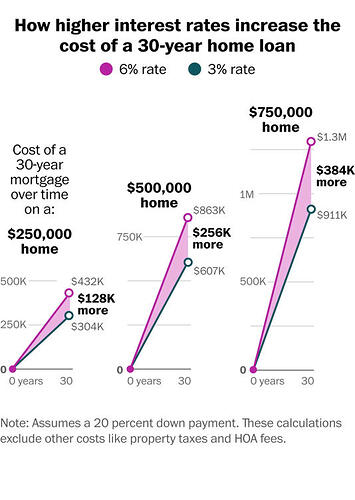 Home ownership is becoming increasingly challenging for more and more would-be first time buyers.
And for those moving up?
Matters now tougher on both the buy side and on the sell side.
"Total cost" over 30 years is misleading, because it does not account for inflation. The interest rate is fixed, and those future dollars are not worth nearly as much as today's dollars. There's no need to look at total cost to make the comparison – just compare the monthly payments.
I hope there's a RE crash so that I can buy more. The 30-50% jump of the last 2 years makes no sense.
Since you didn't reply to a specific post, I'm unsure as to the "total cost" to which you're responding. I'm guessing that the "total cost" to which you are referring also does not include upkeep or taxes.
I did reply to a specific post – the preceding one. The total cost is in the first chart.
This reply is to your post @Honkinggoose. When it is not apparent what the reply is about, it's because the poster hit the reply button either on the last post in the thread or at the very bottom of the thread.
From the Los Angeles Times: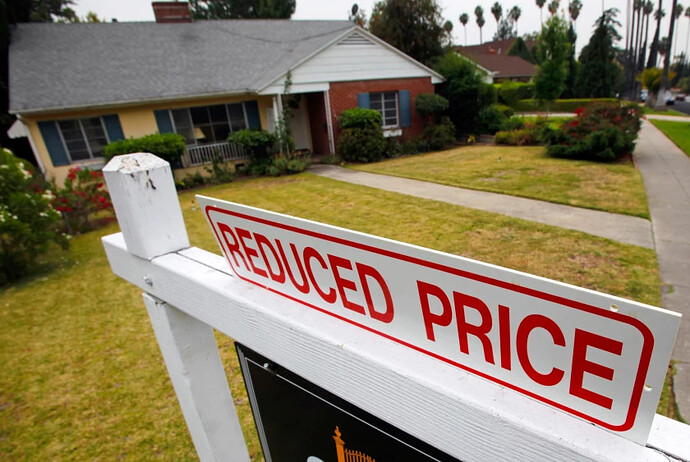 Real estate cooling down like everything else? Difficult to believe, especially in Los Angeles!
ETA
. . . . but opinions on the above differ!
So maybe it's only in California that real estate is on the slide?

From Fortune:
By how much is your home currently overvalued? Find out here:
Some of the overvaluations are quite remarkable and stunning.
I have read that since equity is high and lending standards were very strict, prices are unlikely to slide, at least until there is clear unemployment caused by a deep recession. People will stop selling except for job, divorce or death. Falling supply will meet falling demand and prices will be lower on very thin volume.
Once recession hits though, will fed continue the QT?
Meanwhile, until job losses happen due to recession, rental market is going to be very difficult for the tenants and great for landlords. Increasing salaries for tenants mean rents can be raised without any fear of losing the existing tenant. Tenant turnovers used to cost 8% on an average. Now that figure can go down to 4%
The premise only implies that massive foreclosures are unlikely, but that does not mean prices are unlikely to slide. IMO prices are likely to slide simply because the current price levels were fueled by low interest rates. The interest rates have gone up and will continue to go up, which makes the already unaffordable current prices even less affordable.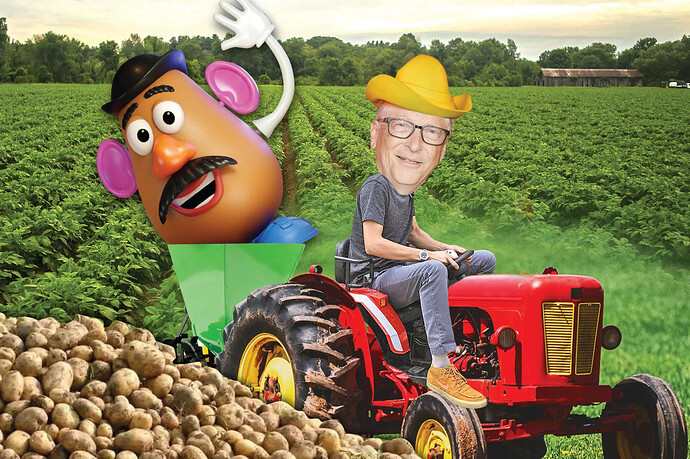 Note:
Real estate can include property, land, buildings, air rights above the land, and underground rights below the land.
There are 640 acres per square mile. So this piece relates to Gates having picked up in the vicinity of 3+ square miles of Dakota land. The largest landowner here where I live owns only about one square mile of land. Over three square miles is a nice piece of real estate.
Gates apparently believes this is a good investment, and my own gut agrees. But I happen to like land and the ownership thereof . . . . when it can be bought at a decent price. Land ownership can confer some of the same intangible benefits many folks enjoy with ownership of gold and silver. I'm very happy I bought my own land decades ago. Were I younger I would be buying more right now. If you do not already own land you should be giving thought to purchasing some . . . . if you can buy at a good price.
Home price increases slowed ever so slightly in April, but it is the first potential sign of a cooling in prices.
Or is this actually much ado about nothing? This tiny change is scarcely distinguishable from the noise. But you decide. I am merely your humble reporter.
ETA
However, all that said:
Hmmmm. Perhaps real estate actually is at an inflection point.
Why Buying Property in These Vacation Destinations Could Be a Great Investment
https://www.nasdaq.com/articles/why-buying-property-in-these-vacation-destinations-could-be-a-great-investment
Owning a rental property in a hot market can generate both long-term capital gains and immediate cash flow. In many areas, rental income can far exceed the cost of the mortgage on the property. This means that you'll essentially be paid to own a property as it appreciates in value. However, to reach this investment nirvana you'll have to pick properties in hot areas that generate consistent rental income. Here's a list of five areas that do exactly that.
There is stuff happening in the realm of real estate. All these stories have appeared within the last twenty hours:
60,000 is a significant number.
See this post on the inflation thread
Renters find bidding wars in crowded housing market
When former prospective buyers are no longer qualify to buy, they still have to live somewhere. The only thing they can do is rent. The demand has skyrocketed, just at a time when supply is coming down.
It hasn't hit Charlotte yet, but I will be happy when it does. Have put off a couple of projects due to availability and cost of skilled labor.
Right no fear of sliding puts a bottom on the prices. It is not easy to see prices falling in nominal terms but prices will adjust in real terms when counting inflation